>As part of the Foodbuzz Tastemaker Proram i recieved a coupon in the mail for a free bottle of
LEA AND PERRINS WORCESTERSHIRE SAUCE
to try. , we have tried several different other brands and not been impressed, the flavors were just not as bold or rich.
Most people think it's just for meats. I have used it in dips, gravies, sauces, marinades, you name it.
They have several varieties now:
Original
,
Thick Classic
,
Reduced Sodium
,and
Marinade for Chicken
, which i completely love. Here is my
Grilled Chicken Fennel Soup
recipe using the Marinade for Chicken.
The dip was wonderful, you can adjust the seasonings and amount of shrimp to your liking.
Shrimp Dip
1/2 lb fresh cooked shrimp, cooled and chopped
1 can cream of shrimp Soup
1 8-oz tub mascarpone cheese ( 1 8oz block cream cheese, softened will be fine also
2 -3 teaspoons
LEA AND PERRINS THICK CLASSIC WORCESTERSHIRE SAUCE
1-2 teaspoons hot sauce
1 teaspoon garlic powder
salt to taste
Mix all ingredients together and refrigerate at least 2 hours. Serve with crackers or veggies.
Here is the soup using the LEA AND PERRINS MARINADE FOR CHICKEN~~~~~~~~~~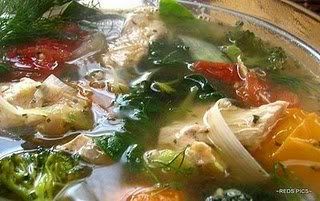 LEA AND PERRINS MARINADE FOR CHICKEN
2 large boneless , skinless chicken breasts, pounded thin.
2 fennel bulbs (stalks with green included)
1/2 red onion, sliced
8 cloves garlic whole or sliced
1 leek (soft part only)
1/2 c. white wine
1 jalapeno, minced (didn't use, the kids)
1 stalk lemon grass
Lemon zest from 1 lemon and 1/2 the juice..or to taste
1/2 lb gourmet cherry tomatoes (or cherry tomatoes)
1/2 of 10-oz package fresh spinach
1/4 cup cilantro
4 quarts chicken stock
Salt
Pepper
Heat some olive oil in a soup pot.
Pound thin and marinade chicken breasts while doing the prep work. Then grill till done.
Remove stalks from fennels . Then slice the fennel bulbs in about 1″ thick slices.
Add fennel, onion and garlic to oil and sautee a couple of minutes.
Cut the leek into 2″ long sticks and add in.
Grate in lemon zest. Add stock.
Cut off the dark green "grass" part of the lemon grass & leave only the soft stalk. Slit it down the middle and stir in the soup with the minced jalapeno and bring to a boil and lower flame.
Season with salt and white pepper. Add white wine.
In the meantime, grill chicken breasts, season with salt and black pepper, and cut into strips.
Once the fennel gets soft, slice tomatoes in half and add to pot.
Now remove the lemon grass stalk from the soup.
Toss in chopped cilantro and spinach cook for about 5 minutes.
Place a few pieces of grilled chicken in bottom of serving bowl, pour soup over and serve.
I know that was alot to take in, but i hope you enjoy. I know after the hilidays alot of you will be dieting, and that soup is perfect.
Thank you so much for reading!
Oh ya, no lurking
~Kim~ AKA ~RED~