>It's just THAT good. Really. The chicken i used for this was boneless breast and it was the most moist flavorful chicken i have had in ages. The flavors just come together beautifully. If you don't care for the root veggies here, you can always swap for potatoes, beets, carrots, squash…
I hightly recommend trying this for a Sunday dinner, maybe tomorrow?
I did not boil the brine as directed, just put it all in a bowl and covered for 24 hours.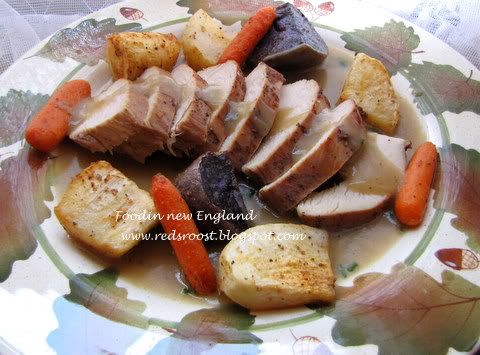 (My addition *3 India Spice Chai tea bags, any spice, apple flavor will work)
1/4 cup kosher salt
2 cups water
12 whole cloves ( i used ground cloves)
1 teaspoon black peppercorns
1/4 cup molasses
1 each orange, cut in half
4 cups ice cubes
3 large bone-in split chicken breasts, skin removed, cut in half ( i used 5 boneless halves)lengthwise
2 teaspoons olive oil
1 cup reduced sodium chicken broth ( i used stock)
1/4 cup vermouth ( i used white wine)
3 medium parsnips, peeled and cut into 2-inch pieces
4 medium carrots, peeled and cut into 2-inch pieces
2 medium turnips, peeled and cut into 2-inch pieces
1 tablespoon olive oil
1/4 teaspoon ground black pepper
1 tablespoon molasses
1 each parsley sprigs (optional)
Directions:
1. Prepare the chicken and brine. In a large saucepan or stockpot, combine salt and water. Bring to a boil over medium-high heat. When salt has dissolved, remove from heat and add cloves, peppercorns, and 1/4 cup molasses. Squeeze juice from the orange halves into pot, then add the rind and pulp. Steep 10 minutes. Add ice and stir until mixture is cool and ice is melted.
2. Place chicken pieces in a large resealable bag and pour brine over them. Sealbag, place it in a bowl or pan to catch any leaks, and refrigerate for 2 hours.
3. Just before draining the chicken, prepare the vegetables. Preheat oven to400degreesF. Spray a baking sheet with vegetable cooking spray. In a large bowl tosstogether parsnips, carrots, and turnips. Drizzle with 2 tsp. oil and toss with pepper. Arrange vegetables in an even layer on baking sheet and roast until tender, about 25 minutes. Drizzle 1 Tbsp. molasses over vegetables and stir gently to coat. Continue to cook until well browned, about 5 minutes longer.
4. While the vegetables are roasting, drain the chicken, discarding brine, andrinse well under cold water. Pat dry with paper towels.
5. Heat oil in a large nonstick skillet over medium-high heat. Add chicken,skin side down, and cook until browned on one side, about 2 minutes. Turn pieces and cook another 2 minutes. Add broth and vermouth. Bring to a boil, reduce heat to medium, cover, and simmer 20 minutes. Remove lid, turn chicken, and continue to cook, uncovered, until sauce is reduced and thickened and chicken is cooked through, another 5 to 8 minutes. Remove chicken and place on a platter. Tent the chicken with foil, and let rest 5 minutes.
6. Continue cooking sauce another 2 to 4 minutes, until it reduces and thickensslightly. Pour over chicken. Surround chicken on platter with roasted vegetablesand serve immediately, garnishing with parsley if desired.
Source: Fresh Magazine September, October 2010