Gotta love Paula Deen, i mean come on, really? So when i saw this post on my friend Brandy's Facebook page i knew i had to try them, with absolutly NO dissapointment!!!!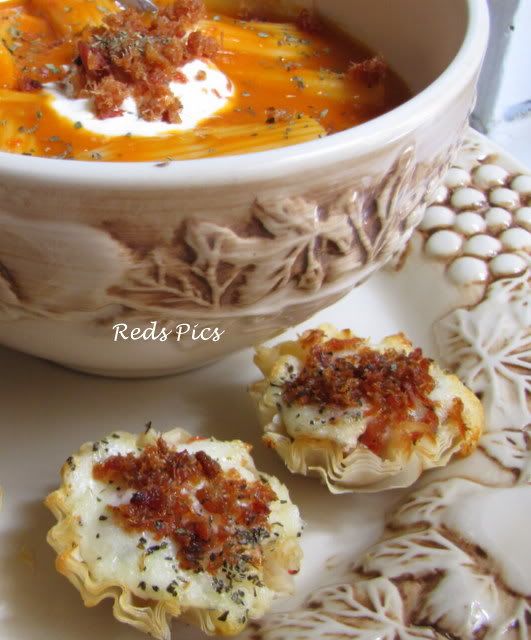 Ingredients
…3/4 cup finely diced tomatoes
2 teaspoons finely diced onions
1 teaspoon basil leaves
1/2 teaspoon Paula Deen House Seasoning, recipe follows
1 package mini phyllo shells
2 mozzarella cheese sticks shredded
1/4 cup mayonnaise
4 slices good bacon; fried until crispy and crushed (use food processor to get real fine)
Directions
Preheat the oven to 350 degrees F.
Place the diced tomatoes in a colander. Sprinkle with the onions, basil, and Paula Deen House Seasoning, and toss to coat. Allow to drain, stirring occasionally. Fill each phyllo shell with a scant tablespoon of the tomato mixture. Stir together the mozzarella and mayonnaise. Frost the top of each shell with a scant tablespoon of the mozzarella mixture. Sprinkle each shell with bacon pieces. Bake the filled shells for 10 to 12 minutes. Serve hot. These may be prepared ahead of time and refrigerated until serving time.
Paula Deen House Seasoning:
1 cup salt
1/4 cup black pepper
1/4 cup garlic powder