>Now who doesn't love bacon? Thick-sliced, hearty-peppercorn,sweet and salty bacon? That's just what you are going to get with this quick and easy recipe for breakfast,snack, or possibly a kicked up sandwich.
There's only one problem. Double the batch.
This came from November-December's issue of
Hannaford Fresh Magazine
I made a cutsie little Bacon, Cheese, and Tomato Biscuit for lunch.
1 lb (12 to 18 slices) thick-sliced bacon (found in the Butcher Shop)
1/2 cup Light brown sugar packed
1 teaspoon chili powder, or to taste
1 pinch Black pepper, freshly ground
directions:
1. Preheat broiler. Place 6 strips of bacon on a rack on top of a broiler pan.
2. In a small bowl mix the brown sugar, chili powder, and pepper. Lightly top each strip of bacon with about 1/2 to 1 tsp. of the seasoned sugar mixture, patting it down to make sure it adheres well.
3. Broil for 3 to 4 minutes, or until crisp and brown, but not burnt. Keep a close eye on the bacon, as it can go from undercooked to overcooked and burnt in seconds.
4. Gently turn the bacon and sprinkle each slice with another 1/2 to 1 tsp. of the sugar mixture, pressing down lightly to make sure it adheres to the meat. Broil for another 3 to 4 minutes, or until the bacon is cooked to your liking.
5. Remove from the broiler and repeat with the remaining bacon and sugar mixture. Serve warm or at room temperature.
Source: Hannaford fresh Magazine, November – December 2010
Also, if you are in Hannaford, try their Natures Place All Natural Chicken Sausage.
I made this pretty "stir fry" with mine!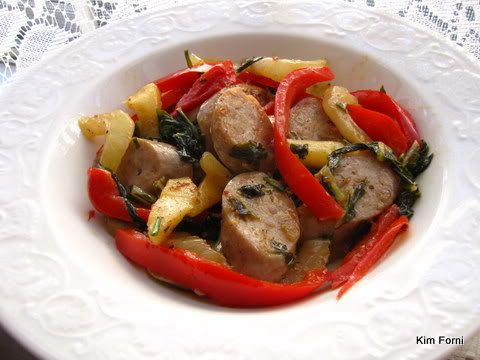 *Disclaimer* Hannaford provided a giftcard for me to make this post.