>Yes, I am still working out of the King Arthur Flour Bakers Companion. There hasn't been one recipe i have been dissapointed in. ( exept the ciabatta bread, which I messed up on, need a redo.. hahah)
I bet my other cookbooks are having meetings at night wanting to "do in" my new one.
I hope you try this, it would be wonderful for gatherings with family and friends or just a treat for the family.
Thanks King Arthur Flour for another wonderful recipe!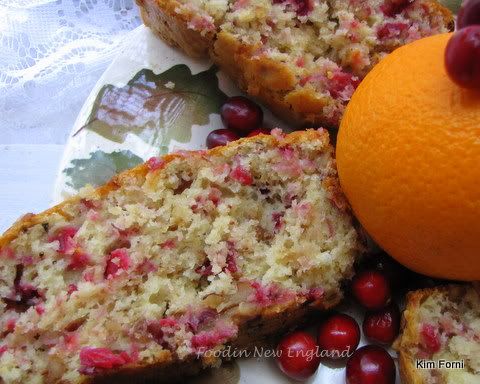 2 cups all-purpose flour
1/2 cup sugar
1/2 cup honey
1 1/2 teaspoons baking powder
1 teaspoon salt
1/2 teaspoon baking soda
2 tablespoons veg oil
juice and zest of one orange
3/4 cup buttermilk
1 large egg
1 1/2 cups coarsely chopped cranberries
1/3 cup coarsely chopped walnuts ( I like to toast mine in the oven)
Preheat oven to 350
Mix the flour, sugar, honey baking powder, salt, baking soda in a large mixing bowl. Set aside. In a medium bowl, mix veg oil, juice and zest of orange, buttermilk, and egg. Add to dry mixture and barely stir together. Add cranberries and walnuts. Pour into loaf pan and bake for 66-60 min.
King Arthur Flour provided the book for this recipe.