>I never liked it as a child, too many vegetables and beans, and too many tomatoes, *gasp* . But as I grew older, I learned to appreciate the many colors and textures, and the nutritional value of this veggie-packed dish.
Answers.com describes it as "A thick soup of Italian origin containing assorted vegetables, beans, pasta such as vermicelli or macaroni, and herbs in a meat or vegetable broth." So there really is right or wrong way to make it.
My herb and seasoning measurements are approximate, since I always TASTE, TASTE, TASTE while I am cooking.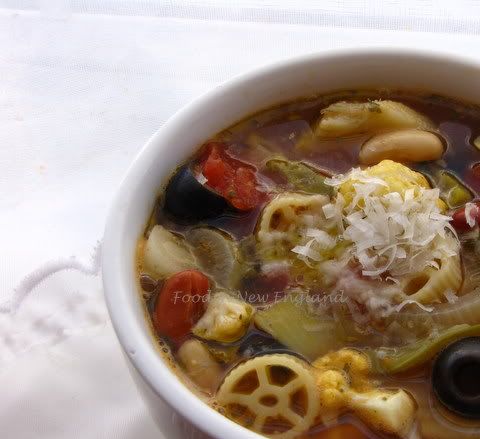 1/2 sweet onion, sliced thin
2 cloves garlic, minced
1-2 cups cauliflower florets, cut very small
3 T olive oil
1 28-oz can diced tomatoes
5 cups vegetable or chicken broth
1 15 1/2 can red kidney beans
1 15 1/2 can cannellini beans
1 can artichoke hearts, chopped
1/2 cup green beans, cut in half
1 can black olives, sliced
2 cups cooked pasta
Italian seasoning, basil, sea salt, pepper, celery salt.
Saute onion,garlic, and cauliflower, in olive oil till just tender. Add tomatoes, beans, broth, artichoke hearts,green beans , and black olives.
Let simmer a few minutes. Add herbs,salts, and pepper. Simmer a few minutes more. Add pasta. Do not overcook, just heat through.
Drizzle with olive oil and freshly grated parmesan cheese.
Thanks for reading!