A warm and flavorful delight on those chilly autumn days. I know the photo is horrid and i will try to get a better on e.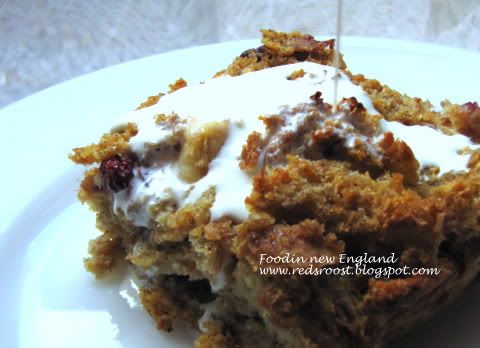 1 loaf
Natures Pride Healthy Multigrain Bread
5 tablespoons unsalted butter
2 large Granny Smith apples—peeled, cored and cut into 1/2-inch pieces
1 cup brown sugar, plus a couple tablespoons for sprinkling on top
1 teaspoon cinnamon
1 teaspoon nutmeg
1/2 teaspoon allspice
1/2 cup apple cider
1 cup dried cranberries
5 large eggs, beaten
3 1/2 cups milk
1 teaspoon vanilla
Preheat the oven to 350°. Spread the bread on a large rimmed baking sheet and toast for about 15 minutes, stirring once or twice, until lightly golden and dry.
Heat the apple cider and cranberries in microwave for approx 2 min, for the cranberries to absorb some of the liquid.
Meanwhile, in a large skillet, melt the butter; reserve 3 tablespoons of the melted butter in a small bowl. Add the apples and 1/4 cup of the brown sugar to the skillet and cook over moderate heat, stirring occasionally, until the apples are golden and softened, about 15 minutes. Stir in the cinnamon. Remove from the heat and add the cider. Return the skillet to the heat and cook until the sauce is syrupy, about 1 minute.
In a large bowl, whisk the eggs with the milk and the remaining 3/4 cup of brown sugar. Add the vanillainto the custard (. Add the brioche and apples and toss until evenly coated. Let stand for 5 minutes to allow the bread to absorb the custard.
Brush an 9-by-13-inch baking dish with 1 tablespoon of the reserved melted butter. Add the bread pudding and drizzle the remaining 2 tablespoons of melted butter on top. Sprinkle with brown sugar. Bake for about 50 minutes, until the custard is set and the top is golden. Let the bread pudding cool slightly and serve.